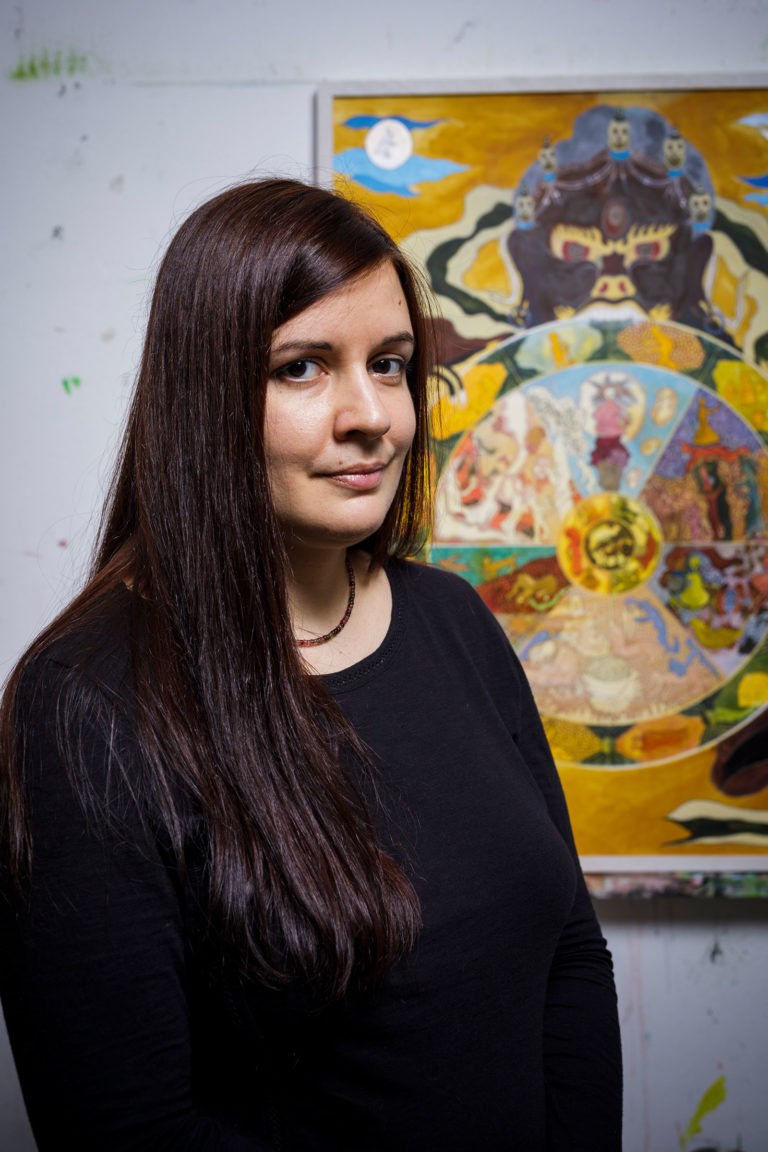 For me, art means to tell stories, the knitting of worlds, like creating an inner sheath. Light condenses into innumerable appearances, as never equal, eternal repetition.
To find oneself in the structures of nature like in a memory of the security of childhood, in the summer holidays, surrounded by goats, hay flower meadows, chickens, earthworms, dogs, cats and books on the porch.
The smell in the halls of the Brukenthal Museum, the spaciousness of the open-air museum are linked to the feeling of timelessness, as in the north of India at the time of the monsoon.
All this is the music underlying my work.
Simina Badea is from Sibiu, Romania, where she completed the art grammar school. She lives in Vienna since 2003. She studied painting and graphic arts at the Academy of Fine Arts under Franz Graf and Gunter Damisch. Already during her studies she participated in exhibitions in Vienna and Austria. Since her diploma, with distinction, she participated in international exhibitions and graphic biennials, ia. in Tsukuba (Japan), Konya (Turkey) or in Skopje (Macedonia) where she was represented as an Austrian printmaker.
In her drawings, she weaves equally complex, meticulously crafted patterns. She develops those structures point by point or line by line to vibrating designs, using colourful ink and acrylic. Simina Badea speaks about thoughts that fall like an invigorating rain on the earth to unfold to countless beings and life images. Like luminous hybrid creatures, their patterns pass through the picture surfaces. Another aspect of the work process is that it reflects the theme of the visual work in textual form.